Vancouver vet heads north to provide animal care in remote Igloolik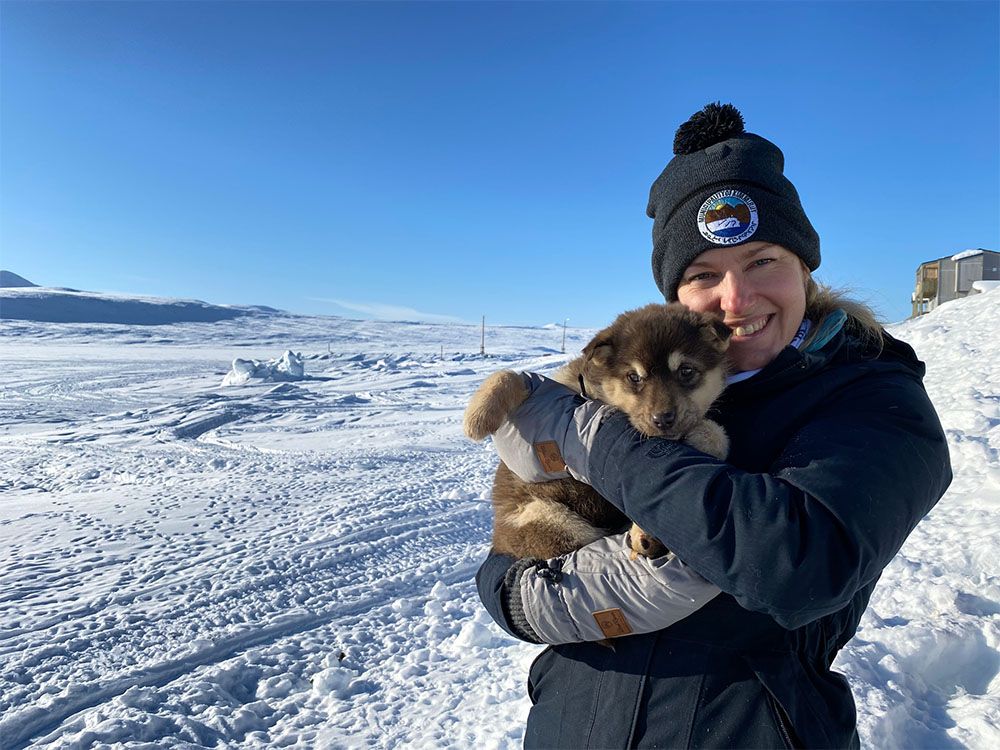 Dr. Kyla Townsend first volunteered with Veterinarians Without Borders in Nunavut last year.
Article content
A Vancouver veterinarian who is making her second trip this month to Northern Canada to help spay, neuter and vaccinate pets in remote hamlets there is excited about going to a "bigger community" this time.
Article content
That would be Igloolik, Nunavut, population roughly 2,000.
Article content
Dr. Kyla Townsend first volunteered with Veterinarians Without Borders in Nunavut last year, going to two much smaller hamlets at the invitation of local leaders hoping to improve animal health care in their communities.
The fact it's locals who ask for help and organize the clinics is meaningful to Townsend.
"I really like going on them because they're community-led trips," said Townsend. "They decide if they want care, they reach out to Vets Without Borders, and then they start a conversation about what the community can provide (and what they need)."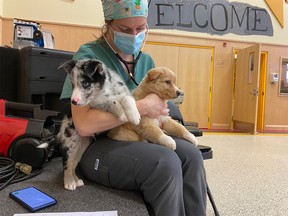 "Vets Without Borders won't do anything that the community hasn't asked for. I like that it's community-driven, and not us just showing up and assuming we know what a community needs for their pets' health needs.
Article content
"When we were up there (last year), everyone was just so happy," she said. "The dogs are great, running around, the kids are all there trying to corral their pet dogs to come in for vaccines. Everyone's really appreciative, and it's really a nice feeling being able to help support them in the way we know best."
On last year's trip, that support came in the form of seeing more than 200 pets and performing over 80 surgeries and a similar number of vaccinations. Though the clinics in Igloolik will only run for four days, Townsend expects she and her small volunteer team will see upward of 300 animals and perform even more spays, neuters and vaccinations than in 2022.
The trips — about a dozen by Vets Without Borders both this year and last — are also a chance to create education and awareness around animal care, and to work with local governments to manage stray populations.
Article content
Understanding the relationship between these communities and their animals requires a cultural "shift," said Townsend. Though there is genuine love and attention for the pets, they're often free-roaming, cavorting in the snow and running about with kids at play. This can create a safety issue for the children, as well as for the dogs.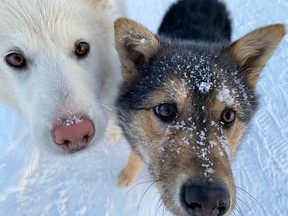 Like much about living in the Far North, food and supplies for pets is expensive. However, many of the dogs are fed a more traditional Inuit-style diet of fish and hunted wild meat — which is healthy enough, but can lead to issues with tapeworms and other parasites. Fortunately, the mostly Husky crosses with thick, shaggy coats are hardy and well-adapted to the frigid climate, and serious health issues aren't common.
Article content
Though there is the occasional homebody chihuahua or other small pet, a significant portion of the pet population is working dogs. Igloolik is the starting point for the annual Nunavut Quest sled-dog races across the eastern shores of Baffin Island, a celebration not just of sledding, but also of Inuit culture and history.
The most serious problems encountered by the dogs of Nunavut are usually from getting bitten by other dogs or wild animals. Vets Without Borders helps instruct locals on administering things like wound care, infection control and vaccines when no health professionals are available.
Rabies has reared its ugly head in recent years, too, thanks to an encroaching Arctic fox population. That requires still more education and making rabies vaccines more widely available.
Article content
Vets Without Borders traditionally focused on international projects, working with larger animals and sustainable farming and so on, said Townsend, "which is great, it's just not my expertise. So when I heard they were expanding to dogs and cats in the north of Canada (in 2019), I got really excited."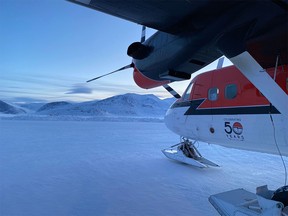 Like last year's locations, Igloolik doesn't have regular access to a veterinarian and the community is "excited to have us," said Townsend. The only way pet owners in the hamlet north of Hudson Bay can get care for a sick or injured animal is usually to fly all the way south to Ottawa.
The trip for Townsend and her team is no less daunting. When she leaves Vancouver in mid-March, it will involve two full days of travel, first a commercial flight to Ottawa, another to Iqaluit, and booking a private charter into the tiny hamlet — then doing it all over in reverse within the space of a week.
Article content
But she's thrilled to be headed up north again, and for the opportunity to make life better for both pets and people there.
"It's going to be amazing to get up there," said Townsend.
She said an exciting addition is the availability of grants and bursaries so locals can travel to get veterinary, first-aid and animal-care training to take back to their communities.
Vets Without Borders Canada is a non-profit group that operates entirely on charitable donations. For more about the Northern Animal Health Initiative or to donate, go to vetswithoutborders.ca.
Meet the police dogs from last year's RCMP name-the-puppy contest

Injured yellow Lab found with muzzle taped shut in Comox: B.C. SPCA
---
Support our journalism: Our in-depth journalism is possible thanks to the support of our subscribers. For just $3.50 per week, you can get unlimited, ad-lite access to The Vancouver Sun, The Province, National Post and 13 other Canadian news sites. Support us by subscribing today: The Vancouver Sun | The Province.